NOTE: This website is obsolete. Nakahara Informatics, Inc. is no longer operational. This website has been preserved for historical interest, essentially as it appeared at the time of the last update (October 22, 2008), and the software available on this website may be used for free. However, there is no warranty of any kind, and these apps no longer work on modern OS X systems. Therefore, this may not be useful, except to historians and tinkerers resurrecting legacy systems.
iGet screen shot: the File Transfers window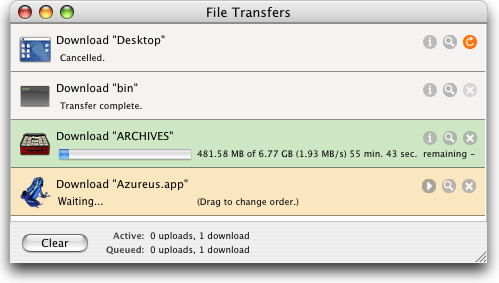 The File Transfers window allows you to monitor all of the file transfers that are happening.
Using it should be fairly intuitive for anybody accustomed to the Downloads window in Safari, or other similar apps.
iGet supports queueing uploads and downloads, drag-reordering them, and transferring groups of files in one logical transfer.